From the Sma' Lines and the Creels to the Seine Net and the Prawns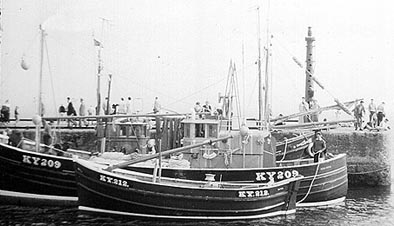 Seine net and creel boats pictured at the end of the East Pier in Anstruther during the 1960's
A St Andrews University Graduate, Peter Smith taught Mathematics for many years at Waid Academy, Anstruther. Throughout his studies and teaching, however, Peter maintained an active interest in the east Fife fishing industry. A keen fisherman himself, Peter often accompanied his father to the creels to fish for lobsters and 'partans' (edible crabs) or on fishing trips to catch codlings or mackerel.
In his third book, From the Sma' Lines and the Creels to the Seine Net and the Prawns, Peter traces the history of the inshore fishing industry from St Andrews around the east coast of Fife to Buckhaven.
The book contains many of Peter's personal recollections of fishing in the east of Fife as well as several photographs and interesting statistical tables relating to the industry.
For details of how to order your copy of FROM THE SMA' LINES AND THE CREELS TO THE SEINE NET AND THE PRAWNS, click the book icon to return to the Home Page: